About
CEO, author, mentor, successful Amazon® entrepreneur and expert marketing strategist. Dynamic public speaker. Philanthropist
Theoklia (Theo) Prodromitis' lifelong passion for business is born of Philotimo, a distinctly Greek personal and cultural imperative that one's life be a larger contribution; to pay forward one's God-given gifts and invest in the lives of others. Through decades of visionary executive leadership, she's catalyzed that mandate to create wildfire growth and profits for her own companies and hundreds of others along the American entrepreneurial landscape.
Magnetized, invested, and connected, she now mentors other leaders in fast-growth businesses to develop their brand, build a solid structure with inspired communications, then defy naysayers to go all in.
ENTREPRENEUR & DYNAMIC STRATEGIST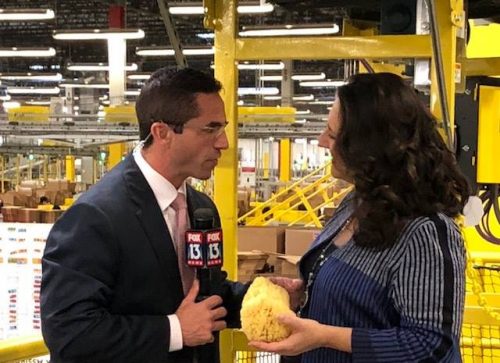 Theo learned business values, ethics and drive at an early age from her boisterous, business-savvy, big Greek family. She opened her first retail venture at age 8, and naturally thrived amid the science and craft of her entrepreneurial successes. Decades later, her experience and leadership among retail, service and marketing industries make her a sought-after spokesperson and fierce advocate for the interests of women in business and small business leaders nationwide. Theo's expertise spans business development and intellectual property considerations to manufacturing and logistics, marketing and strategic communications.
Under her leadership as Co-founder and CEO of Spa Destinations, the company became an early adopter of the emerging Amazon Marketplace platform. This pivot rocketed the post-recession growth trajectory of Spa Destinations, and in 2018 Theo was selected for the Amazon Women's Entrepreneur Conference and spoke at Amazon's BOOST Conference.
After more than twenty years of experience as a national sales and marketing executive, and as Founder and CEO of Out Front Brands, Theo today consults with companies ranging from start-up ventures all the way to Fortune 500 companies. She specializes in the areas of sustainability, white space analysis, public purpose partnerships, and fast-growth businesses. Together with Out Front Brands, these companies develop their unique brand DNA, align marketing communication in its service, discover opportunities for corporate evolution, and implement creative e-commerce for profit and growth.
In 2018 Theo became an Amazon Policy Advocate, a leadership role that allows her to advocate at the highest levels of government for national policies that support small business interests. In that capacity, she led a delegation of sellers at the Amazon Policy Advocate and Delegate meeting with seven leaders on the Congressional Small Business Committee. She was also nominated by Amazon and received the 2018 National Retail Federation's  "Champions of Retail" Award. As an honoree, Theo lobbied Congressional leaders on behalf of the 42 million people who work in retail in the US, and she now serves on the NRF Small Business Retail Advisory Council.
"Theo is a true asset and valuable leader that helps foster strategic business development and partnerships. She possesses the clear skills of a leader in corporate communications. She facilitates business development through the mastery of her craft."
– Joseph Repole, National Director of Sales, Energy Systems Group
EXPERT SPEAKER, MENTOR & TRAINER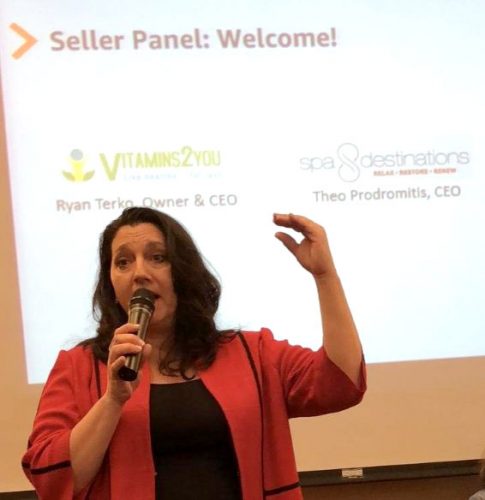 Theo brings her marketing expertise and retail leadership together with a personal lifelong quest to inspire others to reach their potential. As an award-winning trainer, Fortune 500 guest speaker and honored lecturer and lobbyist, she inspires others, from emerging entrepreneurs to Fortune 500 corporate executives, to lead from purpose with resilience to success and mastery.
Theo's on-stage advice is specific, actionable, and on point. As an experienced mentor, she is authentic and candid about the challenges and hard-truths facing business owners today. But she also brings her trademark energy, palpable generosity and genuine care to light the way forward, "allowing her to transform a room of strangers to a room of future clients and life-long friends," says LumaStream COO, Tom Richards.
Speaking highlights include guest lecturer for University of South Florida St. Petersburg's Entrepreneur Program, productivity trainer for Fortune 500 companies including Fleet Mortgage, and presenter for The Home Depot Innovation Center. Theo developed a sales training program for the Florida Restaurant Association and was honored as a Cultural Sensitivity Training Specialist for The International Indian Film Academy (IIFA) Awards. Under her leadership, Theo's team won the World Sales Award at Leadership Management International for their work with Discount Auto Parts.
Speaking topics include "Success Secrets of an Amazon Seller: Business strategies hidden inside the world of Amazon selling," "Retail Revival, The Evolution of the Customer Experience: PLEASE don't get me the manager," and "The 10 Most Important Words in the English Language: How words shape our infinite potential."
Theo's book publishing debut is tentatively titled The Space Between Hustle and Flow: Where Real Magic Happens in Life, due out in Fall 2019.  Theo's product launch advice will also be featured in a chapter she authored, "Launching a Product Successfully," in Jack Canfield's 2019 book, The Success Formula.
PHILANTHROPIST
"Those who achieve their own success in business have an obligation to invest in a culture of service and contribution."
Theo's commitment to doing more and effectively reaching ever-wider circles of people extends beyond her career out into the community. She would argue there is no distinction between being of creative service to the professional and wider world.
Her legacy of philanthropy reaches back to 1982; while earning a Political Science degree from the University of South Florida, Theo raised funds and awareness as the Maximus Chairperson for the Multiple Sclerosis Society. Other early philanthropic efforts included programming and fundraising for Camp Good Days and Special Times, serving children with cancer and AIDS and their families.
In that spirit, Theo today sponsors and advocates for many charitable causes throughout the Tampa Bay community, including:
Together with the generous Tampa Bay business community, Theo is committed to helping children and the most vulnerable among us find access to resources and support, reach their own creative potential, and live their best lives.